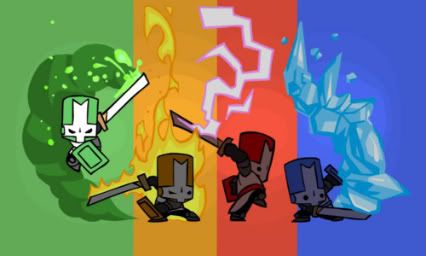 As previously reported, Castle Crashers has finally made its way to PSN. A game with a refreshingly bright and stylised art style, with plenty of violence. It doesn't get much better than that, does it? Well, how about a free game with a refreshingly bright and stylised art style, with plenty of violence?
Thanks to the lovely, beautiful and slightly insane people at developers The Behemoth, we have one EU PSN code for Castle Crashers to give away! Although we love you all, there can, as Christopher Lambert said, only be one. Therefore, in order to decide a winner, we're going to get your creative juices flowing (eurgh).
The question is this: What, exactly, is The Behemoth? Answer us however you like. Write a short story or a single – sentence description. Draw us a picture. Record yourself performing an interpretive dance and upload it to YouTube. Take a photo. Write a haiku. Whatever you think the best method of describing The Behemoth is, go for it! But please, no penis jokes.
Send your entries to competitions[at]criticalgamer.co.uk. Closing date for entries is Friday 19th November 2010.
Go!!
Terms and Conditions
Entrants must be over sixteen (16) years of age.
The only prize on offer is one (1) code for the game 'Castle Crashers', redeemable via the EU PlayStation Network online Store. Code provided by The Behemoth for the purposes of this promotion.
No alternative prize shall be offered. Prize is non – returnable.
The final date for entries is 19th November 2010. Entries received after this date will not be eligible.
The winner will be announced on the site Friday 26th November 2010.
One entry per person. Employees of Critical Gamer, The Behemoth, and their families are not eligible to enter.
Anybody found to have breached any of these terms and conditions shall have their entry/entries disqualified.
The decision of the Critical Gamer administration in all matters pertaining to this competition is final.