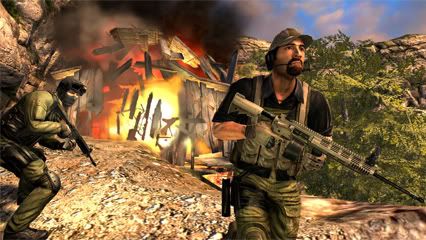 A phrase like "military simulation" in terms of gaming tends to conjure up images of Operation Flashpoint, the kind of experience where you can be shot or 'contacted' from what you thought was a bush half a mile away before you start bleeding to death. It certainly doesn't make us think of massive explosions splintering the world.
Atomic Games, developer of training simulations for the US military and intelligence agencies are preparing to release their destructive multiplayer shooter Breach on January 26 for PC and Xbox 360.
It's descriptions like this that excite us. "Breach is unlike any other game. It is the first military shooter to use precise and massive destruction to change the very nature of multiplayer combat. Combined with an advanced cover system where players can use cover even while it is being destroyed around them, Breach enables real-world tactics never possible before now."
"Precise and massive destruction" – that sounds fun. Along with house collapsing shooter action, there is also a hardcore mode on offer "for players looking to play the way operatives train." Jack Bauer simulator anyone?
Breach is out on Xbox Live for 1200 MS Points and PC via digital download and retail for around £15 on January 26.