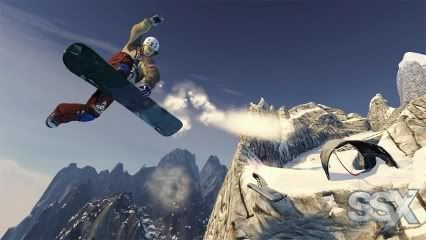 SSX joins the slew of games set to ship with an online pass code included with new copies of the game. The good news is that it is not required to enjoy the game's multiplayer mode.
An EA spokesperson told Game Informer that the code will not affect how you play the game's two multiplayer modes, Explore and Global Events. However, in-game credits earned from the Global Events mode will be withheld from players without an online pass.
The official statement reads: "In SSX, players without an Online Pass are able to compete and play in both of SSX's online game modes, Explore and Global Events with no restrictions. In Global Events, the top finishers from each event are awarded with in-game credits. These in-game credits earned during play will not be awarded to the player if they do not have an Online Pass; these credits will be stored so that at any time, if a player redeems an Online Pass code, all the credits that they had previously earned in Global Events will be immediately awarded to them."
Credits in SSX are used to unlock extra equipment for characters and to gain entry to some events. EA's statement goes on to reassure that those without an online pass will not be barred from any content in the game.
"Economy balance makes it possible to unlock all available content and allows you to participate in all event drops across both Explore and Global Events, with credits earned solely in Explore."
SSX will be released on Xbox 360 and PS3 in Europe on March 2, following the US release on February 28.