Wireless gaming mice definitely have a bit of a stigma to them. I would know, I've been perpetuating it for years. I was happy to say that they lag seconds behind wired mice, they're prone to interruption by phone signals and that they melt the fillings in your teeth with prolonged use. Of course it was all rampant speculation; I'd never want to attach a wireless mouse to the air bubble around my gaming rig. So when I had my trusty wired companion ripped from my hands until I'd given the wireless G602 a try, I reluctantly vowed to try it out for a week before returning to my faithful wired friend. What a week it was.
The highest compliment I can levy at the Logitech G602 is that I forgot I was using it. The G602 slipped into my setup effortlessly, working immediately after connecting the USB receiver thanks to the plug and play driver wizardry of Windows 7. It all worked as expected, without any hiccups or complications.
Fitting snugly under your hand, the G602 is on the larger side of gaming mice. It's not too big by any means, but it just feels right for average-sized hands. It features a handy rest for your thumb as well, meaning you won't find any of your digits skipping across the desk as you use it. However, the snug shape coupled with button layout firmly cements this mouse in the right-hander's club.
Speaking of buttons, the Logitech G602 has eleven programmable controls in easy to reach places. Featuring your typical left click, right click and mouse wheel setup, there are two buttons on the left edge that let you shift the DPI settings up and down, allowing for fine tuning on the go. In theory this means you can slow the cursor down for sniping and other delicate gaming operations as you play, but in reality most people will probably pick a favourite setting and stick with it. It's nice to have it though. The remaining six buttons are found down the left side stacked above each other in two rows.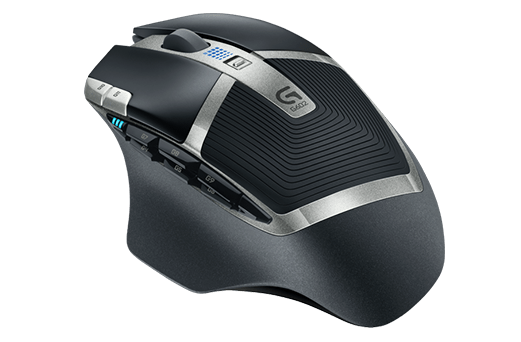 The default settings on these buttons will get you so far, with some level of button binding flexibility catered for via in-game settings. If you want to get right down to the nitty-gritty though, you can opt to download the G602 gaming software from Logitech. This gives you full programmable control over your mouse, allowing you to assign commands and macros to each button through the flashy, yet fairly basic interface. It's easy to use after a brief play and even scans your system for installed games, allowing you to set up tailored bindings for them. However, the slightly deeper stuff will probably only appeal to the serious RTS and MMO crowd. Most players will get along fine by just tweaking the basics.
Take a look at the raw numbers boasted by the G602 on paper and this £69.99 (RRP) gaming mouse appears to be punching a little out of its weight class. Capped at 2,500dpi and with a polling rate of 500 reports per second, it looks like it would get beaten by most gaming mice in this price bracket. In reality though, these figures are more than enough for the average gamer. There may be a few people who would think such words are heresy, and that more obviously equals better, but I honestly never felt like my aim was too slow or my reactions not quick enough due to the mouse. I'm more than happy to accept them as my own failings. Also, the trade-off for these slightly lower numbers is nothing short of mind blowing.
Arguably, the biggest stigma surrounding wireless mice, especially those claiming to be a gamer's best friend, is that the batteries are prone to cut out mid game. Such a nightmare scenario could easily compromise your K/D ratio or upset the precise micromanagement of your units. Good wireless gaming mice promise up to 30 hours battery life. The G602 smashes that time to bits, outlasting it by over 200 hours. The box claims it can live on two AA batteries for 250 hours, and I'm inclined to believe it. I've been using it heavily at every opportunity and am yet to see the battery indicator dip, even after abusing its most power hungry performance mode. This mega battery life blows the main drawback of wireless mice out of the water and deep into the sun. Flick the top switch to endurance mode and it claims to last for an incredible 1,440 hours.
Even if you do run out of juice mid-game, the usual fumble for batteries raided from nearby remotes is only half as painful, as the G602 can run off a single battery, albeit at a lowered life expectancy. What may have been compromised in marginal DPI settings is more than made up for by this outstanding longevity.
It's no stinker to look at either. While they haven't gone out of their way to make it look like the next incarnation of a stealth bomber or Batmobile, the mix of curves and angles finished in black looks really nice, even if it lacks that extra lick of flash that the likes of Razer tend to favour.
Call me converted. I approached the Logitech G602 with perhaps an unfair level of scepticism wired into my mind. After close to a fortnight of heavy use spread across gaming and office tasks, I honestly can't level a harsh criticism against it. Okay, it lacks technical spec in some areas and it doesn't look like it could control the Deathstar's main laser interface, but for what it packs in the battery compartment it's unrivalled. I'm genuinely excited to see how any of the other big names in the gaming peripheral world plan to come close to the G602's phenomenal battery life. As far as wireless gaming mice go, this is an obvious choice for the average gamer.