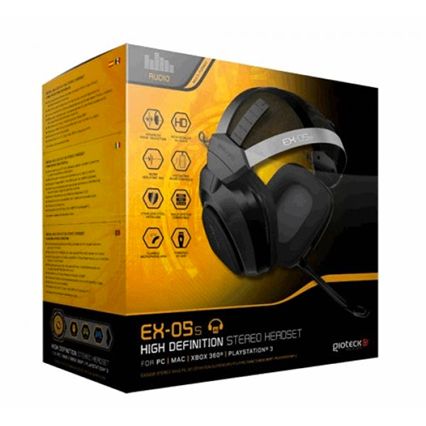 FULL DISCLOSURE: Gioteck's community manager is the multi-talented Steven Gurevitz, who used to write for Critical Gamer. We refuse to allow this to cloud our judgement however, which is why we're happy to tell you lovely people about it.
The Gioteck EX-05s is an upgrade to the EX05 launched towards the end of 2012. It's a wired headset that is compatible with the Xbox 360, PS3, PS4, PC and Mac, but unfortunately isn't compatible with the Xbox One.
The EX-05s looks quite stylish with two aluminium strips that sit over your head with a cloth mesh that sits in between them. It sits nicely on the head and is very comfortable to wear. The ear pads fit over your ears and use a micro-fibre material that is breathable, which helps prevent your ears getting too hot with prolonged play.
The mic boom is flexible and utilises a noise isolating microphone which helps stop echo and background noise. There are separate controls for the chat and game sound which sit on a small box attached to the cable from the headset, to help get the balance right for your ears. These controls also have a sliding mute button to enable you to mute yourself quickly, which is handy if the missus or your parents decide to call time on your late night gaming session.
The headset has all the cables you need to connect to your console or computer of choice. There is a connection kit included to connect to the PS4, which connects to the console via its USB port and the DualShock 4 controller. This setup saves messing around with wires at the back of your console, and means you can pack the headset away if you have young children running around. That being said the EX-05s does leave a lot of wires dangling around when in use, that some people may not like.
I must say that the sound quality of the headset is excellent with a good balance of sound, that is crystal clear. It's not got the dynamics or spatial awareness of a surround sound headset, but they sound great for the price, and aren't too bassy or tinny, which makes them a great all-round headset. My online friends said I sounded pretty clear although not quite as clear as my own headset; but the volume was good, and having the chat and game sound control box on the headset cable makes adjusting it a lot easier than the Sony Wireless Headset 2.0 which has its controls on the earcups.
If you're looking for a reasonably priced headset for your console that delivers a good sound quality, and is comfortable to wear over long periods, then the Gioteck EX-05s is certainly recommended, and gives some headsets that are three times the price a run for their money. It's not got the bells and whistles of more expensive surround sound headsets, but for gamers on a budget, this set of cans will do you proud.