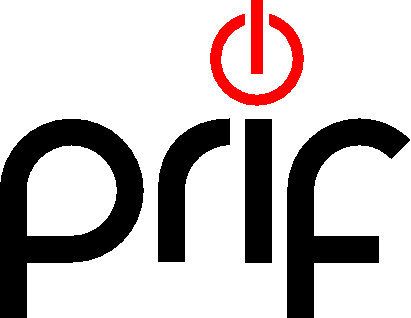 Have you been with Critical Gamer long enough to remember Steven Gurevitz? He gave lots of quality writing in his time with us but, a little over two years ago, he left to join the clan of Gioteck. Even though he moved on from there this year, we'll happily assert that Gioteck make some great products, and you should totally consider them for your next accessory purchase (after searching our site for reviews, of course). But! Exciting news! Steven is part of a group of talented, experienced industry warriors who have come together to create a brand new gaming accessories company. The name of that company is…
Prif.
Prif is not an idea, a 'wouldn't it be cool if we see if we could make this actually happen' thing. It's a company with a range of products fully designed and in the final stages of production, almost ready to roll out to retail; with the first products due within a matter of weeks. Prif may sound like something that would be very good at getting rid of stubborn limescale, but it's actually the name of an accessory company with a 'function first, form second' philosophy; which is something more businesses could do with adopting.
But never mind that, what about the products? Well just up there you can see the PlaySonic 4, an intriguing headset due in September. It's listed as being compatible with PS4, PS3, 360, PC, and Mac (plus Xbox One with the new controller, apparently). Not sure about the poor ol' Wii U, but maybe it could gatecrash the party. It works by using this mixer: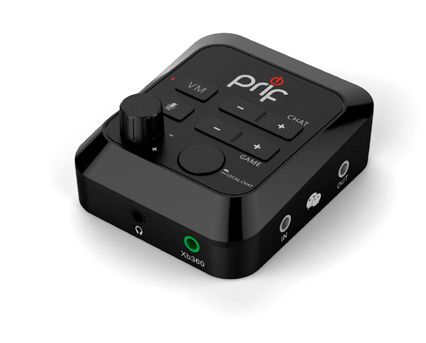 as a bridge between the headset itself and your gaming machine of choice. This could in theory make switching the same headset between machines less annoying and cablecentric than usual, and allows you to fiddle with the game sound/chat mix. It also allows you to monitor how your own voice sounds over the interwebs, and turn up or down accordingly.
The above is the 'Crescendo 1 Amplifier' designed for use with a PS4 controller. If you feel that your headset could do with a bit of amplifying, well, this will be available for you in August. It also promises "a 20 hour battery boost for your PS4 controller" and a charge time of a respectable two and a half hours. We're promised that it's been designed to not get in the way while actually using your DualShock.
Yes, that chair really is called Speedster. What it delivers we haven't been up close and personal to judge, but what it claims is worthy of special attention. Firstly it has, interestingly, been produced in a factory specialising in furniture design which means that (and we're paraphrasing here) it's super-duper comfy-womfy. The seat can be raised and lowered thanks to the gas lift (insert fart joke here) and the material is flame retardant (insert fart joke here). It apparently has an "excellent sonic frequency response" (insert fart joke here) thanks to the built-in stereo speakers which, it is said, will deliver CD-quality sound. A bold claim indeed. You'll be able to buy one of these babies in September.
Our final choice to highlight from the upcoming Prif range, the Soundcube is theoretically a toybox that swears at you. Why do we say that? Partly to stop you from nodding off after reading this far down the page, and partly because the top flips open so you can use it as a storage box – but it can also play game sound (via RF) or music (via Bluetooth) wirelessly. Like the speedster, you'll be sitting on flame retardant material (insert fart joke here) and the sub-woofer will provide "added bass boost and vibration" (insert fart joke here).
Watch this space – and, indeed, the shops – for further Prif-related updates!