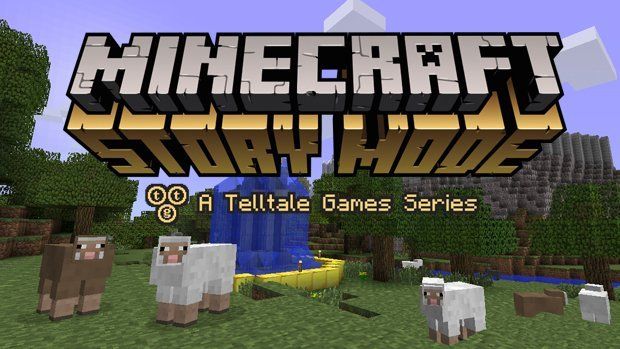 Format: Xbox One (version reviewed), PS4, PS3, 360, PC, Wii U
Unleashed: Out Now (Except Wii U, which is coming later, no really)
Publisher:

Telltale Games

Developer: Telltale Games
Players: 1

Game code provided by PR
As far as spin-offs go, a Minecraft adventure by Telltale is an idea both odd and unexpected. It makes sense if you approach it from an artistic (and somewhat pretentious) angle; Minecraft is after all about promoting and encouraging creativity, and producing unique stories and experiences for the millions of people who play it. Equally however, a game that imposes strict limitations on what you can do in it seems antithetical to the spirit of Minecraft. Does it work? Can it work?
The main character here is not good ol' Steve, but a character by the name of Jesse. Whether you choose a male or female protagonist, therefore, only one set of dialogue is needed for all the other characters who have an unwritten agreement to never refer to your avatar's sex (sneaky!). If you go for the male version, you get Patton Oswalt doing his Patton Oswalt voice. The female version is played by Catherine Taber, and the impressive roll call of voice talent also includes Billy West – who is dreadfully underused. All involved do a fine job though, and the script certainly has some smart and funny moments. It's nonetheless a shame that, despite the fact that Minecraft is a global phenomenon created by a Swedish company, all the accents here are very much American.
Loveable Nerdy Buffoon Forced Into Role Of Hero sums Jesse up quite nicely, and tells you pretty much all you need to know about the character. He/she is not alone however, dragging a small band of friends along for the ride. The first episode begins with Jesse and co concerned with "Endercon", a competition where teams are competing to build… er… impressive things in a bid to win the chance of meeting legendary hero Gabriel. Needless to say it doesn't take long for things to get significantly more complicated than that, and the story toddles along quite happily at a decent pace.
Fans will be relieved to discover that, wherever possible, Telltale have worked to accommodate Minecraft rather than the other way around. It looks and feels like Minecraft, without resorting to a tiresome parade of desperate in-jokes. It doesn't quite look like the whole world has been created via Mojang's magnum opus, but the effect is about 90% there. There are stacks and stacks of small but important touches too; everything from enemies such as creepers and bow-wielding skeletons, down to the smallest animations. The game is played in third person, but it's Minecraft's third person.
Perhaps in deference to the source material, this is the closest Telltale have come recently to a traditional videogame. You shouldn't expect a lot of freedom as the bulk of gameplay still consists of dialogue, QTEs, and wandering down strictly delineated paths. However, there are a few instances of basic combat, and even a few opportunities to use a crafting table; albeit simple and restricted ones.
The trademark player choices are present and correct although – perhaps due to the generally light-hearted nature of this game – none feel as important or dramatic as those in something like The Walking Dead. Interestingly, we found that almost every choice we made agreed with a majority of players, which we've never had before. Perhaps this is because the lack of moral ambiguity means the 'right' choice is usually clear where appropriate, and we (usually) chose to be boring do-gooders.
That said, the final choice is an either/or one that, it is implied, will offer two completely different experiences for the next episode. If accurate and this continues throughout the series, that will prove to be a huge boost for replayability. Looks like that could be something the series needs, too; episode one is short even by episodic game standards, been and gone in less than two hours.
It's good, enjoyable even for those with little interest in Minecraft (though this is definitely designed for fans). This could be the start of something special; but Telltale will have to work very hard to maintain a sense of value if the first episode is indicative of the running time as a whole.