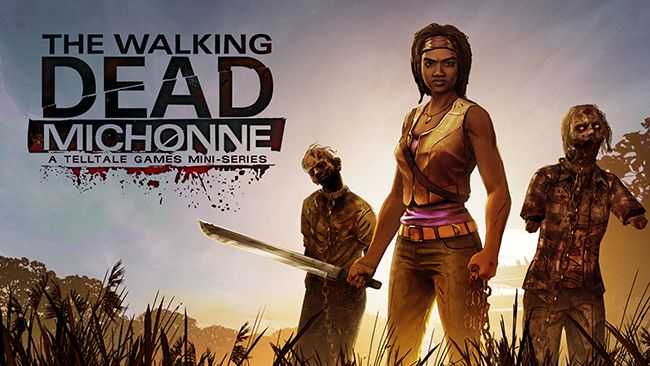 Format: Xbox One (version reviewed), PS4, PS3, 360, PC, Mac, iOS
Unleashed: Out Now
Publisher: 

Telltale Games

Developer: Telltale Games
Players: 1
Perhaps not everything they touch turns to gold (we're looking at you, Minecraft Story Mode), but Telltale Games long ago proved themselves masters of the walk-and-click, playing no small part in its current popularity. One of their biggest hits was The Walking Dead, with both currently available seasons garnering much well-deserved praise. While characters from the comics have thus far been relegated to cameos or supporting roles, this three-episode miniseries focusses on Michonne. Good idea…?
The problem with giving players an established character – especially in a game like this, with a heavy emphasis on choice – is that said character needs to not just look 'right', but to act and talk right too. That problem is further complicated here when it comes to Michonne. She's a well fleshed-out and memorable creation, but her portrayals in the comics and the TV series differ noticeably. The basic concept of this game straddles the two worlds in a slightly awkward manner; the graphics are solidly comicesque, even if they don't match this particular comic. In fact, the miniseries fills a gap in the comics where Michonne parts ways with the rest of the group for a while on a boat (although nothing thus far alludes to any of the comics' events). However, while Danai Gurira (from the TV series) does not play Michonne here, Samira Wiley – presumably under orders – offers an incredible mimicry of Gurira's voice and performance.
The first episode quickly sets the tone very well, with a bit of zombie slaying rapidly descending into a demonstration of how Michonne's loneliness and deep-set guilt are ripping her apart mentally. Then her interactions with other people begin, and you are in effect able to offer your own interpretation of what she has become. She can be stony and gruff or empathetic and kind, optimistic or pessimistic, fatalistic or determined, in control or visibly losing it. This also means that you can swing from one to the next which, while theoretically supporting the idea of a mentally tortured soul, would be an outcome that fails to match Michonne's character on the page or on the screen.
Nonetheless, it serves to prove that you have a choice in how to act (and also, on occasion, that making your choice based on a half dozen on-screen words under pressure can result in your character acting in a way that you never intended). It has to be said that overall, the writing here is among Telltale's finest, and yet again unflinchingly sticks to the Walking Dead ethos. There's some uncomfortable subject matter, and before the episode is over you're already questioning whether the issue of who the good guys are is as straightforward as it seems. There's one particularly neat example, too, of how the way you react in a certain situation has unforeseen consequences just around the corner.
As always with a game of this kind, it's desirable to avoid details of what actually happens as much as possible. That problem is inflated here, as this first episode is just about an hour and a half long. Let's just say that things fast forward after Michonne's initial breakdown to when she's part of the boat crew. Then the boat ends up getting snagged on something, and, well… things never really get any better from there.
How much you'll enjoy this game will depend on what you're expecting from it. If you have no previous experience of The Walking Dead, then some (though not much) of this will be lost on you. If you loved Telltale's other Walking Dead games and want more of the same, then the first Michonne episode doesn't disappoint. It's well acted, tightly written, and even the most seemingly insignificant choice makes you think. Disappointment waits only for those who are hoping for some of Michonne's background to be filled in because, so far at least, that simply doesn't happen. As previously mentioned, it doesn't even tie in to the comics particularly yet, apart from the fact that she's on a boat in the early stages of the episode.
As gripping as the first episode undeniably is, the series still has a lot to prove in just two more installments. Will the other characters prove to be as complex as we hope? Can the tension be sustained throughout the rest of the miniseries? How much of an effect will your dramatic choice at the end have on the events of the next episode? We don't know, but what we do know is this: we're looking forward to finding out.