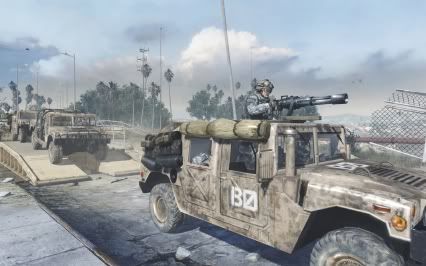 You can file this news strictly under the rumour category, but Destructoid reckon Modern Warfare 2 developers Infinity Ward are beginning work on a Call of Duty MMO. Reports began to spring up yesterday that Activision are likely to pass on the next entry in the global smash hit series to another developer (Treyarch are busy working on another Call of Duty title themselves, rumoured to be set in Vietnam).
This would free up Infinity Ward to enter the lucrative but risky MMO market. However lest we forget Activision are twinned with Blizzard, so the company at large has a wealth of experience in bringing players to their massively multiplayer vision (and parting with sack-loads of cash). Furthermore Destructoid says IW are chasing the lead designer of Everquest II to assist in the transition.
It would be interesting to see what shape a FPS-MMO would take, whether it would go for a Planetside scale global conflict set in the Modern Warfare universe, or something more heavily instanced. Either way, we'll have to wait until we have official confirmation of the title before we can get our hands on those details.