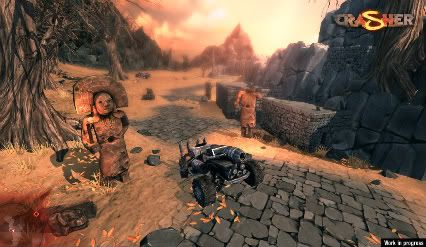 New kids on the block Punchers Impact (the company only officially launched in October 2009) have announced online PC title Crasher, due for release in 'late 2010'.
Crasher, like all planned games from Punchers Impact, will be sold via digital distribution. The game's genre is described as being 'MOBA' (Multiplayer Online Battle Arenas) which, we confess, is a new one on us. Relatively little is known about the game past these screenshots, but a variety of game modes have already been announced.
Players can expect an emphasis on team play, and 'a strong RPG aspect'. Arcade modes including Last Man Standing and Death Match are promised, as is a mode which judging by the description of 'the players overtake areas and destroy bases', will be some sort of base control mode. Sherlock Holmes has nothing on us.
"Punchers Impact already has around forty talented employees who have worked for the biggest French and English speaking studios from Free Radical to EA." says Managing director of Punchers Impact, Thierry Bensoussan. That sounds promising; and console owners need not feel left out, as the company is committed to developing downloadable games for the Xbox 360 and PS3 as well.
Mind you, if your only console is a Wii, you now officially have permission to feel left out.