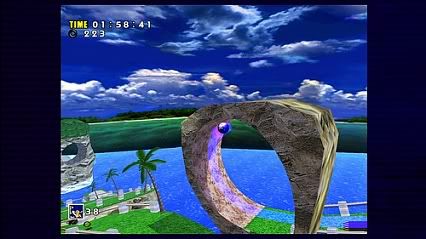 While a handful of Dreamcast titles have made their way to services like XBLA and PSN in the past, it seems Sega is now taking the idea a bit more seriously. This fall, most likely starting the week of September 9th (based on the 11th anniversary of the Dreamcast), Sega will dive back into the Dreamcast catalog with an XBLA/PSN incarnation of Sonic Adventure. Following that, we'll also be getting Crazy Taxi.
Each game will feature improved resolution, surround sound, and achievement/trophy support. It's unclear if these re-releases will include 16:9 support or improved graphics, but potentially leaked footage that surfaced a few months ago suggested otherwise. In addition, Sega's press release shows screenshots of Sonic in 4:3 with a border, and Crazy Taxi stretched to fit 16:9. Either way, Sega plans to show both games at the upcoming E3 Expo, so it should be clear what we're getting soon.
Pricing, a definitive release date, and additional titles are still unannounced. In fact, it's not entirely clear whether this is a one-off experiment or an on-going plan. Hopefully we'll get more information at Sega's E3 booth.
To be honest, with Rez, Soul Calibur, and Ikaruga already available on XBLA, the addition of Sonic Adventure and Crazy Taxi almost feels like business as usual. If Sega tells us they're following up with Chu Chu Rocket Online and Jet Set Radio, then we'll have something to talk about.