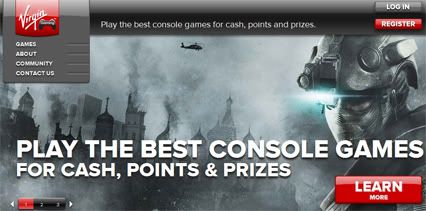 Virgin Gaming, the bizarre love-child of professional gaming, online poker, and marketing ingenuity, has partnered with Ubisoft to bring their future multiplayer games to the service. Tom Clancy's Ghost Recon: Future Soldier is the first in the line-up, joining other supported games such as Halo, Madden, and FIFA.
The service integrates with the stat-tracking of online PS3 and Xbox 360 games and provides a way for players to arrange tournaments with entry fees and cash prizes. They meet up in their game of choice, compete, and then the stats are automatically pulled from Xbox Live or Playstation Network. The winner takes the pot (minus Virgin's cut) and the next game begins.
The anytime-anywhere nature of the service is pretty different from your occasional sponsored tournament – it almost seems like gambling. In fact, the fee-based, cash-prize tournaments are currently unavailable in 14 U.S. States. Still, with Virgin Gaming just getting its start, there's a definite buzz surrounding the service. The leaderboards for each game have a few hundred players, and there's always a handful in Virgin's lobbies waiting to get a game going. Considering the niche audience for such a service, the numbers are impressive.
Ubisoft's partnership, considering the Tom Clancy brand's presence in the tournament scene, is a logical next step for both parties. It'll be interesting to see how many people are competing for cash when Ghost Recon: Future Soldier hits next year.