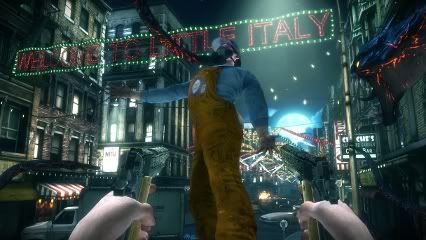 Those of you who like their shooters dark, violent and revenge driven are in for a treat as 2K games has just announced a sequel for 2007's demonic hitman game, The Darkness.
The Darkness II is set to feature 'Quad-Wielding gameplay', a unique system that allows the player to slash, grab and throw the various nasties you stumble across with your flailing demon appendages, as well as accelerating thumb sized lumps of lead in their general direction.
We can also expect plenty of deep and twisted story hooks complimented with stylised violence, all presented through a graphical style that stays true to the comic book origins of the series with the same name.
"The Darkness II is a well of dark and imaginative violence, and it's a stylized and beautiful nightmare," said Christoph Hartmann, president of 2K. "The game takes a unique stance on fighting in the dark versus light. Combined with the arsenal of weapons at Jackie's disposal and the gruesome attacks of the supernatural Demon Arms and Darkness powers, we're proud to announce another title that delivers on our core values of creating games for gamers."
The story kicks off two years after the events of the first game with a botched assassination attempt on the series protagonist, Jackie Estacado, kicking off a mob war – a setting that is surely there to provide plenty of meat drones to plough through. The award winning comic book writer Paul Jenkins is on board to ensure there is a tightly integrated narrative with some dark humour and hardcore tenderness sewn across the surface for good measure.
The Darkness II is being developed by Digital Extremes for the Xbox 360, PS3 and PC with a release date pencilled in for autumn this year.