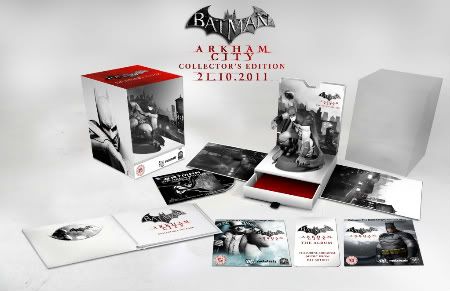 Some of us here at Critical Gamer are sensible folk, who are easily able to resist the shiny (and expensive) aura of 'special' and 'collector's' editions. More than one member of the team however has shelves full of lovingly positioned figures, soundtrack CDs, books, sweets, and replica props; while the carpets are littered with a clutter of unimportant items such as food, clothing, cooking utensils, and elderly relatives.
It was with embarrassing fervour, therefore, that details of the Batman: Arkham City Collector's Edition were received at CG. Due for release 21st October in the UK for PS3, 360 and PC (for an unspecified price), it includes:
Custom Batman statue produced by Kotobukiya

Collectible art book

Early access to the Iceberg Lounge Challenge Map and Batman: The Dark Knight Returns skin

Batman: Arkham City album from WaterTower Music including original songs by hit artists, available via digital redemption

Bonus DC Universe animated original movie, Batman: Gotham Knight
Oh, and apparently there's a game disc in there too.