Look upon the eShop, ye scalpers, and despair! First of all, howls of pain went up from eBay sellers the world over when Nintendo made Metroid Prime Trilogy available for download to your nearest Wii U console. Now, another out-of-print and highly desirable Wii game game is getting an eShop release; Xenoblade Chronicles is available to download right now. No introductory discount as there was with Metroid, sadly, but £17.99 is still a lot less than the £30-£60 ebay sellers are expecting you to pay for the physical version. That also includes a £9 discount for the digital version of Xenoblade Chronicles X, if you buy the Wii U exclusive within two weeks of its December launch.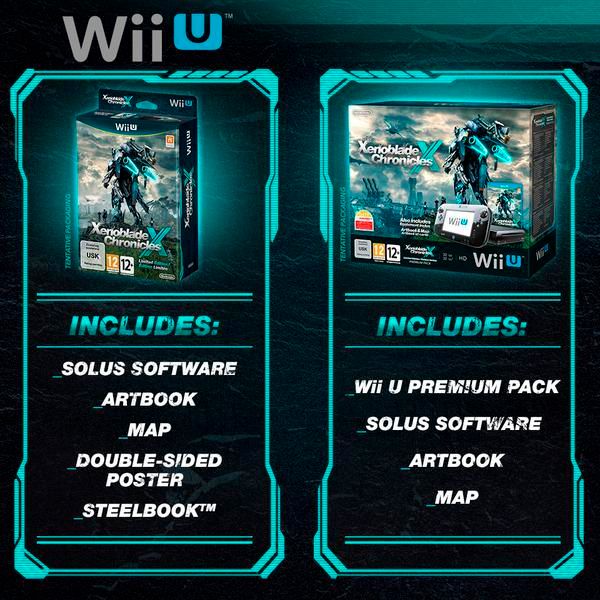 Speaking of which, yes, Xenoblade Chronicles X is confirmed for a European release this year (although the release date is at time of writing no more specific than "December 2015"). As you can see above, there's going to be a limited edition featuring a steelbook, an artbook, a double sided poster, and a map. Oh yeah, and a copy of the game. Interestingly, there's also going to be an X branded Wii U hardware pack; Nintendo are clearly gambling on the title being good enough and well-promoted enough to shift some units. Will it work?
In other awesome news, Project Zero: Maiden of Black Water now has a firm release date – October 30th, just in time for Halloween. 'Tis the season to wee yourself, after all. And yes, you use the GamePad as your camera for snapping pictures of the ghosties – so lots of potential. Lots and lots of potential. You won't even need to put any money down to get an idea of whether this potential is squandered or allowed to blossom; it's already been announced that a trial version, covering the prologue and the first two chapters, will be available to download for free from release day.
It's being marketed primarily as a digital release; there will be a retail copy, but only as a limited edition with a steelbook cover, an art book, a double sided poster (hmm, this all sounds familiar), and – we quote – "four spirit photographs". We pity the poor interns sent into realms of the dead, each armed with just a camera and a spare pair of pants, all in the name of limited edition extras.