Hudson wasn't ready to tell us about last week's unintentionally revealed games, opting instead to toss us a somewhat less tasty bone. We chased it anyway, and obediently ran it back to you, dear readers. Here's some info on three other Hudson games coming your way this month:
Bomberman Ultra (Playstation Network)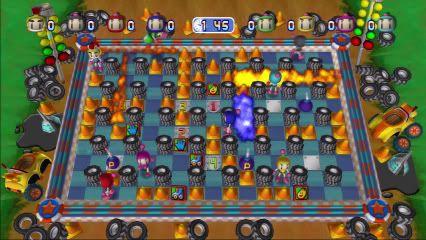 Hudson Says:
"Because you demanded it! Bomberman makes his debut on the PLAYSTATION 3 computer entertainment system. Compete in 8-person online multiplayer battles in 14 exotic arenas with all your favorite powerups! Customize your very own Bomberman from over 50 character costumes, with over 150,000 possible combinations! Stat-tracking leaderboards will show just how good you are!"
Miami Crisis (Nintendo DS)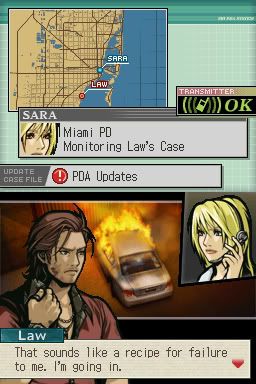 Hudson Says:
"MIAMI CRISIS is an action-adventure game worthy of its own prime-time TV show. A mix of crime-scene detection and action elements, MIAMI CRISIS offers the player to guide one of two characters – Law Martin from the Miami PD or FBI Agent Sara Starling – as they are charged with solving a series of linked crimes in the US city. Martin is an intense officer who will use any means necessary to make a bust, while Sterling is an intelligent agent with an eye for detail, and both will face different challenges as the game unfolds.
Playing as Law Martin, players will experience a more action-orientated game, wherein the Miami PD officer becomes embroiled in the hard-edged side of law enforcement, with MIAMI CRISIS throwing up car chases, intense shoot-outs and face-offs. Alternatively, playing as Sterling presents a more puzzle-solving side to the game, with the FBI agent using forensics and detailed examination techniques to search for clues. Both are working to uncover a shadowy terrorist conspiracy, but their successes and failures along the way will have an ongoing effect on the plot.
With its evolving gameplay and varied content, MIAMI CRISIS is a unique Nintendo DS title that will continually surprise and enthrall. With additional unlockable sub-games located as a game progress award, and a unique control interface, Hudson Soft has delivered the ultimate cop show for the Nintendo handheld."
My Zoo (WiiWare)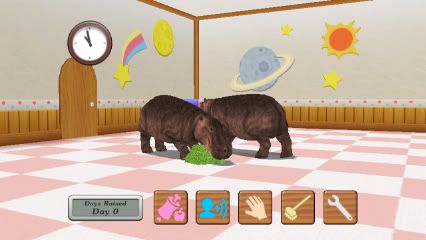 Hudson says:
"My Zoo is the follow-up to the hit 'My Aquarium'. In My Zoo, you can raise 8 of the most popular animals seen in zoos, including lions, panda bears, zebras, and elephants. As you feed and play with them, the animals may grow attached to you. They may even have babies that you can raise to adulthood. In addition to the animals that come with the game, you'll be able to download more later!"
All of these titles are set for September releases, with Miami Crisis touting a more specific September 24th release date. Yeeeeaaaah!