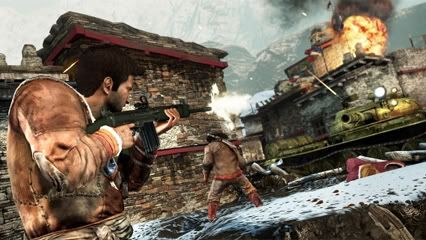 Even though most of us here at CG towers are foaming at the brain for Uncharted 3, last year's title in the series, Among Thieves, is getting some festive love from now until January 3 with a 4x cash event.
Jump into a multiplayer game in 'The Lab' play list to start earning the extra cash whilst upping your frag count at the same time.
This play list has a series of gametype variations chosen by the game's designers to test potential new settings and new play modes.
The variations picked for the holiday event are shotguns only, plunder pistols only, no power weapons, Desert-5 shootout and deathmatch – no boosters. These are played on The Lost City, Plaza, Sanctuary and Temple maps.
Twelve days of extra in game earnings can't be bad. See what we thought of Uncharted 2: Among Thieves in our review.
Spotted on CVG