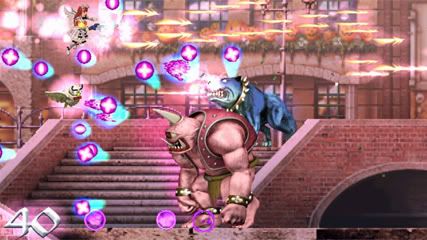 Deathsmiles – the grimace that stretches across the face of a Modern Warfare 2 player when the martyrdom deathstreak snags someone, and also a colourful shooter leaning on the hectic side of coloured projectiles.
Rising Star Games will be bringing the side scrolling pixel slayer to the Xbox 360 in a deluxe edition exclusively to the PAL territories on February 18.
"At Rising Star Games we've been competing to get the highest score on Deathsmiles. With the release date next month I'm looking forward to opening up the scoreboard so shmup fans can get online and compete with their friends and peers." said Martin Defries, managing director, Rising Star Games. "We're delighted to work with CAVE, they really are the legends of the shoot-em-up genre. It's a real privilege to bring the Deluxe Edition of Deathsmiles to the to the PAL market."
Deathsmiles Deluxe features three game modes, two player co-op and the Mega Black Label expansion pack that includes an extra character, stage and special features. It also comes with the official soundtrack and a desktop accessory pack that 'lets fans kit out their PC with exclusive Deathsmiles materials.'
The Deluxe edition of Deathsmiles will be available for Xbox 360 on February 18.