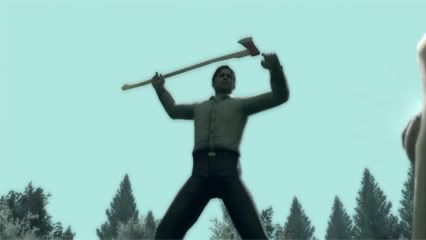 Rising Star Games is bringing its niche open world survival horror title, Deadly Premonition, to the Xbox Live Games on Demand Store next week.
Developed by Access Games, Deadly Premonition was released last year to an incredibly mixed critical chorus, with review scores ranging from a laughable 2 to an awe inspiring 10.
"Deadly Premonition is a quirky and unique title we are proud to have published," says Martin Defries, managing director, Rising Star Games. "We knew there was an audience for the title and we delivered them the game they wanted. Now Deadly Premonition is on Games on Demand it will give even more people a chance to marvel at this completely individual title and decide for themselves what they think of the most controversial title of 2010."
Players step into the shoes of FBI Special Agent Francis York as he tries to solve a mysterious and brutal murder of a young girl. Along the way you'll encounter eccentric natives, supernatural creatures and a blood-soaked raincoat clad folklore killer. To make each encounter with such people as charming as possible, players must also maintain Mr York's personal hygiene to ensure those you meet don't run off the minute they get a whiff of him.
Expect to see Deadly Premonition on Games on Demand next Tuesday, July 5.