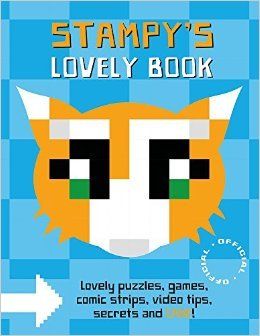 Stampy's Lovely Book

Joseph Garrett (Art by Adam Murphy, Lisa Murphy, Army of Trolls, Anthony Duke)

£7.99

Book provided by the publisher
Let's get one thing straight; if children didn't have access to the internet, Let's Play wouldn't even be a thing. People who watch these on YouTube on a regular basis are more often than not (that doesn't mean always) children or young teenagers. I could prove my point with a dedicated feature, but today we're concerned with Joseph Garrett, AKA Stampy Cat. He's a perfect case study, mind you; concentrating on the youngest end of this market, Stampy has over four billion views under his proverbial belt accomplished across less than nine years. Last year, his channel was in the top ten most viewed on the whole of YouTube. He is perhaps best known for his Minecraft series 'Stampy's Lovely World'. As you may have guessed, it is this series which the book draws from.
I'm not exactly part of Stampy's target demographic, but I have a six year old daughter who's a big fan of his videos. I first became aware of Stampy when I heard what sounded very much like Jimmy Carr's laugh coming from the tablet in my daughter's hands, soon followed by the voice of who I would've sworn was Jon Richardson. "Good lord!" I thought to myself, Britishly. "Surely my daughter hasn't stumbled upon a clip of 8 out of 10 Cats?!?". I went over but, no, it was just a Minecraft video. The only cat was Stampy Cat. His laugh combined with the voice of one of his friends was just a bizarre coincidence.
The book is advised for ages 5+, which sounds about right. Garrett is officially credited as the author in legal terms so, in case you were wondering, this does indeed seem to be a 'proper' Stampy book. There's a Minecraft aesthetic throughout, and references to recurring Stampy themes such as cake, his dogs, his 'Lovely Garden', and his online friends such as Amy Lee 33 and Ballistic Squid. Most importantly, my daughter loves it.
So, what do you actually get in there? Just under 70 colourful pages of activities, Stampy facts, posters (basically 'book pages you'll have to very carefully tear/cut out') and even a few comic strips. Heck, you even get a recipe for making a Stampy cake, including a link to download a template for the face decoration. There's also a brief 'How to draw me' section, though this is definitely something that the youngest fans will struggle with.
The book quite naturally assumes familiarity with Stampy's Lovely World throughout, and there's also an eight-question quiz to test your youngun's knowledge. Having only watched bits and pieces of videos, I sure as heck can't answer any of them. What did Santa get Harrison for Christmas? I don't know, who's Harrison??
To be honest, £7.99 isn't bad at all in today's market considering what you get (it's a hardback, too), and you can doubtless find it for even less online. If you have a Stampy fan in the house, then this carefully designed book will make a perfect gift for them.