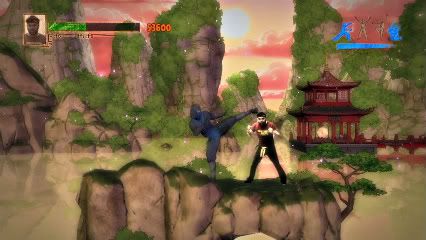 There's been much discussion of how Kinect is little more than a superpowered PlayStation Eye (well, amongst non-360 owning PS3 fans if nobody else). Surely we can all agree, however, that it would be interesting to see how the Eye would handle a Kinect-style game. If only there were such a PS3 title to test this out on!
Enter Finnish developer Virtual Air Guitar Company and their latest game, Kung-Fu Live.
Kung-Fu live is billed as a "full-body motion fighting experience". It does not, as you may expect, utilise PlayStation Move; it relies solely on the Eye camera, thanks to VAGC's FreeMotion technology. The emphasis is on over the top fun with a comic book style and, of course, the player very much inside the game.
"From the very beginning, we've set out to deliver some serious fun for people who don't take themselves too seriously," said Teemu Maki-Patola, CEO of Virtual Air Guitar Company Ltd. "It's a vision that literally puts players inside of the epic action of the video game world with no controllers and no disconnect between their real life selves and an avatar on-screen. They are truly inside of the game. Every kick, punch, cartwheel, and power jump they can perform in front of their televisions is now an integral part of the gameplay experience, and the result is exactly the kind of ridiculous and physically challenging fun we've strived to create."
There are even multiplayer elements, which we're curious about. If you fancy a good excuse to play at being Bruce Lee (a good distance from anything breakable) in your living room (probably with the curtains drawn), Kung-Fu Live is available to download from PSN now. $14.99 in North America, £10.99 here in the UK, €13.99 in the rest of Europe.