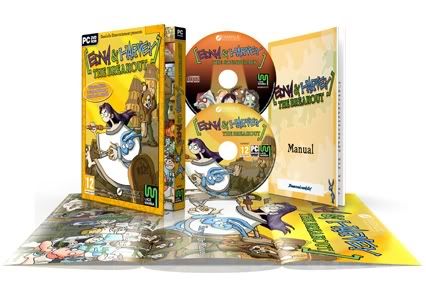 Brighton publisher Lace Mamba Global have confirmed the release of the Collector's Edition of Edna & Harvey: The Breakout on PC. The adventure game is being released in the UK on 21st January 2011, before being rolled out to various other English speaking territories.
The Collectors Edition contains the official game soundtrack on CD and an A2 artwork poster, along with the multiple award-winning game. Edna & Harvey: The Breakout is one of the most successful adventure games to hit the European game market in recent years. The game, by German adventure game developer and publisher Daedalic Entertainment, started off as a student project by one of Daedalic's founders, and was a homage to the adventure gaming classics of yesteryear. It won the hearts of adventure game fans over the world and quickly turned into Germany's best rated adventure game of the last few years, with some great reviews from media and players alike.
The game features the rebellious Edna who finds herself locked in a padded cell without any memories, with her talking stuffed rabbit (yup) and sidekick, Harvey. Players need to help Edna recover her memory, escape from her cell, and defeat the evil Dr Marcel who runs the asylum. To do this players need to interact with fellow crazy inmates, and pick up useful objects that will help her escape, much like in an old-school adventure game. The game features over 120 different locations to explore, and Lace Mamba Global are confident that Edna & Harvey will make many new friends when it is finally released on these shores early next year.