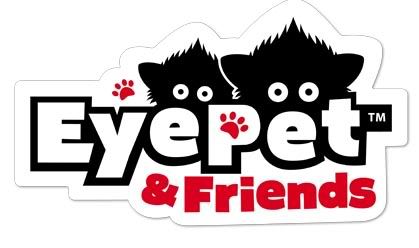 Format: PS3 (PlayStation Move required)
Unleashed: November 18th (EU), Out Now (US)
Publisher: Sony Computer Entertainment
Developer: London Studio
Players: 1-2
Despite – or perhaps because of – 3DS and Kinect's suitability to augmented reality console gaming, Sony has taken steps this year to muscle back into the AR arena. EyePet & Friends is the first 'proper' sequel to the first game and, thankfully, it ditches the Magic Card in favour of PlayStation Move. That in itself automatically fixes many problems; but have other issues been addressed?
The reason the Magic Card was such a problem was essentially because it was a 2D image (the pawprint the Eye needed to see at all times) in a 3D environment (e.g. your living room). Turning the image of the card into, say, a shower head to wash the EyePet isn't quite so magical as intended when players of all ages keep accidentally twisting the card in their hands a few degrees too far to the left or right, and the item disappears. The glowing bulb of Move is easily tracked at all times, meaning that whatever the virtual item in your hand on the TV, it won't disappear unless you remove the controller from the camera's field of vision.
But let's start at the beginning, where EyePet & Friends gets off to a bad start. Yup, the tedious egg hatching sequence returns; the only positive of which is that if you get fed up trying to have the camera recognise your hand tapping the egg, it will (eventually) hatch itself regardless. Why you can't simply use Move to play the tedious (best word, so we're using it twice) shell-tapping minigame is beyond us.
The on-screen EyePet scientist with more than a whiff of Doc Brown about him has been replaced (in the UK version at least) by an off-screen, British narrator. He gets overexcited about everything, and babbles on deliriously every time you discover a new option, feature or button. His almost constant, overly enthusiastic introductions to everything at the start of the game led Luke's six year old daughter to cry things such as "Shut up, I want to play!", "He's not funny!" (although five minutes later she was laughing at him) and, amusingly, "He's using too many connectives!". We eventually discovered that hitting the triangle button will cut his speeches short.
Narrator aside, two things hit you very quickly once you get past the (tedious) egg hatching sequence – one very good, one not so much. First of all, lessons have clearly been learnt from the first game's insistence on locking virtually all of the content away from new EyePet owners for many hours, or even days. Players were required to jump through proverbial hoops thanks to the questionable decision to include the all-but-compulsory 'Pet Program' and set tasks. Within minutes of starting this title however, players will be able to not only take photos and video of themselves with their new furry friend, but also play with a small selection of toys and access pretty much everything in the main menu.
Plenty of content (such as new games and clothes) is locked; but rather than being forced to run a gauntlet of specific tasks in order to access them, players can buy it with the in-game currency. Most things you do – feeding your EyePet, washing your EyePet, playing the games, etc. – earn you tokens, meaning that you slowly unlock everything by doing things you actually want to do.
Even the loading screens are likely to amuse younger gamers, with EyePet floating across the screen on a balloon, being hit on the head with a football, and similarly adorable situations. This is good, because you'll be watching these loading screens a lot. Jump to a game? Loading screen. Jump to an activity? Loading screen. Call your EyePet by laying Move on the floor? Loading screen. And so on and so forth.
There's a lot for kids to enjoy between loading screens, which is the important thing. The all-purpose toy from EyePet Move returns with new items, such as a water pistol and remote control trampoline. They can build and save mini play areas for their fluffy friend, by arranging pre-set shapes (or ones they have designed themselves) on a grid. Basics such as feeding, washing and scanning (to see if food, attention etc. are needed) are still present; and 'papercraft' allows them to design their own cards and stickers in-game. They're even able to create their own vehicles for the (surprisingly good) minigames, with the option to start right from scratch – which works extremely well.
It's not all good news. While EyePet can now perform a wide variety of tricks (dancing, playing dead, star jumps, and much more), the commands for these tricks are various shapes drawn in mid-air with Move. Memorising all the shapes is a problem in itself, but the game can be frustratingly picky in the accuracy needed for what you draw. Attempting most of these shapes is likely to be a source of frustration for a great many young EyePet fans (and, indeed, their older relatives). Similarly, something as simple as stroking or pouring shampoo onto your EyePet is complicated by utilising depth. Holding the bottle above your pet isn't any good if your hand is a little too far into the foreground or background, a concept not immediately obvious to many young children. Also, without a large room with a lot of free space, aiming the laser pointer (which your EyePet chases) and moving the trampoline can be fiddlier than necessary.
Players on the younger end of the scale will need help from an adult to fully enjoy this; although it's a game and not a babysitter, children enjoy independence when playing. Nonetheless it's got a lot to offer the younger player and, while we can't comment on how well the game works when two EyePets are on-screen (you need one Move controller per fluffball), if you have kids who enjoyed EyePet, they'll love this.