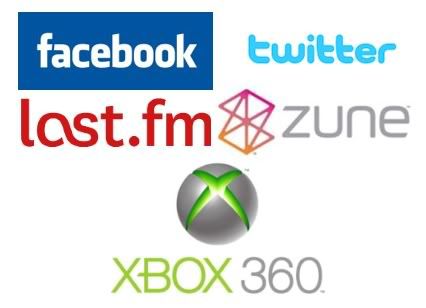 Whatever your thoughts are on what console has the best games, it's hard to argue that Microsoft is turning the Xbox 360 into the most fully-featured media box on the market. Netflix Instant Streaming alone (at least over in the U.S.) has transformed the way many people use their Xbox, and with the upcoming addition of Twitter, Facebook, Last.FM, and Zune, Microsoft hopes to make the 360 even more versatile. But does the added functionality make it more than a gaming console? Read on to find out.
Twitter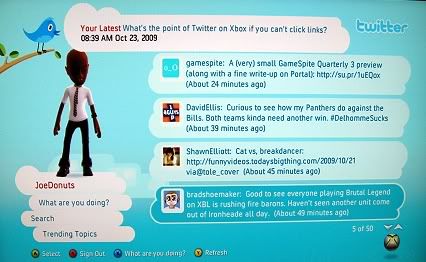 Twitter's streamlined approach to social networking has made it an internet phenomenon. It's a way to share links, see what your friends are up to, and even follow the news. For those who obsessively check their friends list on 360, Twitter should have been a perfect fit.
But while Twitter on 360 offers just about everything the web version does, it's pointless without a way to view web links. An overwhelming majority of tweets include links to YouTube videos, news articles, and more that you can't view on the 360. Sure, it's Twitter from the comfort of your couch, but the second you see an interesting link you'll have to go to your computer anyway.
To top it off, you have to stop everything you're doing and jump into a separate program in the dashboard. If Twitter was something you could quickly jump over to and check while playing games it would be far more useful.
Facebook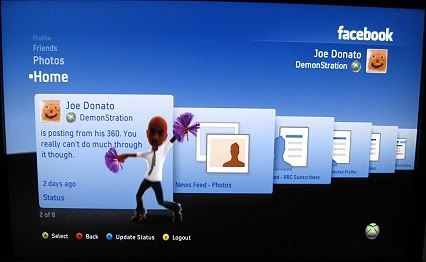 Twitter's limited scope doesn't make the translation to a game console, and Facebook's social networking platform doesn't fare much better. No way of viewing outside links, no videos, and no access to apps result in something resembling Facebook's own humble beginnings.
The best use of Facebook on 360 seems to be as a photo viewer. But even then, the web compressed photos don't always show well on HDTVs.
The interface is admittedly pretty nice, mimicking the 360's own dashboard for navigation. But without Facebook's rich features or some unique Xbox Live functionality it's not something worth coming back to.
Last.FM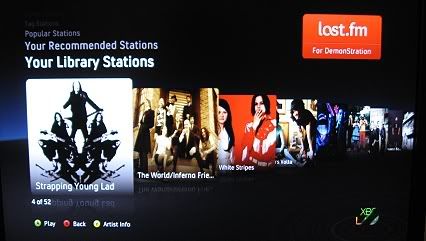 Facebook and Twitter may be more exciting for Microsoft's marketing department, but Last.FM is this dashboard update's stand-out feature. It functions almost identically to the Last.FM Radio in a web browser, but like Facebook, uses the Xbox 360 dashboard layout for navigation.
Taking artists and genres as starting points, Last.FM builds a radio station of related artists and styles. After a brief ad (unless you're a Last.FM subscriber), your custom-built radio station plays a tailored selection of songs. You can favourite songs or skip to the next track, and your actions are saved by Last.FM to create a special radio station for your tastes.
Like Facebook and Twitter, you have to enter a separate program to start Last.FM. Unfortunately this means you can't play Last.FM as your custom soundtrack in games. Still, as a way to find new music, or as an alternative music player, it's a fantastic addition.
Zune Marketplace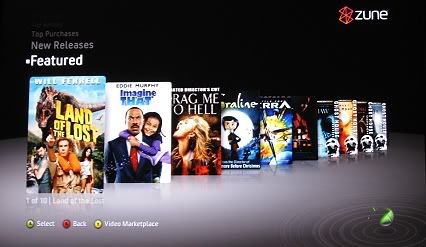 The Xbox Video Marketplace has been renamed Zune Marketplace, and with the change comes some new technology. The rental service has had a lot of success, but thanks to some hefty download times it was often more convenient to drive to your local film rental store. Now, if you've got a fast enough connection, Zune Marketplace offers a streaming option so you can watch rentals immediately.
The interface is smartly designed, with a connection speed test that tells you what video quality you can achieve. Those with fat pipes can enjoy 1080p high definition video. No need to fret if your connection is less than stellar though, you'll still have the option to download videos in full.
The service seems to stay on top of new releases, but the library isn't exactly comprehensive. Still, it beats leaving the house for the latest films, and the HD option is appealing for those who haven't gone the Blu-ray route.
Additional Bells & Whistles
Beyond the big applications Microsoft has added with this update, there's one bonus feature that could eventually balloon into something more substantial. In the "Inside Xbox" section there's a section that provides news briefs from MSNBC as well as animated comics from Dilbert and The New Yorker. At this point it seems like an afterthought, but more expansive news coverage could be a welcome addition to the 360 down the line.
Bottom Line
The new applications added to the 360 dashboard are hit and miss. Last.FM is a wonderful addition, and Zune Marketplace is a substantial improvement over the old Video Marketplace. Twitter and Facebook on the other hand, come off as little more than useless distractions in the face of their web browser-based counterparts.
Thankfully, there's room to grow – it's entirely possible these applications will be updated into something useful in the next dashboard update. But for now, these social networking tools offer little more than two more hot properties Microsoft can slap on the box to sell more Xbox Live Gold accounts.