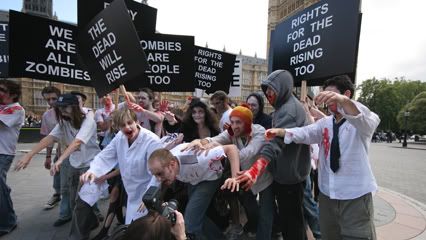 The undead have given the government something to think about when the Citizens for Undead Rights and Equality (CURE) staged a political protest outside the Houses of Parliament yesterday afternoon, with the event supported by Capcom.
Leader of the CURE party, Harry Cole was joined by a crowed of over 50 undead, demanding that zombies receive the same basic rights as the living through the medium of catchy sayings on placards.
"With the coalition treating the electorate as zombies, we thought we'd illustrate the strength of feeling by bringing our cause direct to Parliament," said Mr Cole.
"We fielded candidates in four constituencies in the UK General Election, and only came last in one of them – it's clear our manifesto already appeals. And now we've taken our cause to the heart of Government, we expect our manifesto to gain wider attention."
If you're interested in finding out more information about CURE, you can visit their website here.