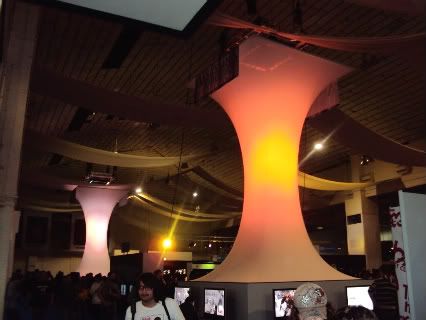 This year's Eurogamer Expo is again taking place at London's Earl's Court, and runs from 22nd-25th September (Thursday 22nd is open to press and people registered with Eurogamer.net only). If you're not interested, you really should be; (almost) all of our coverage from last year can be found here, and gives you an idea of how big the games present will be – and how far in advance of release you'll be playing some of them.
Battlefield 3 will be there, and Namco Bandai have now confirmed their lineup for the event too. Unexpectedly perhaps, the much-anticipated sequel to notoriously so-difficult-it-hurts game Demon's Souls will be playable. We speak of course of Dark Souls. If you only get to play till you die, don't expect to get more than three minutes at a time on that one…
The latest entry in the evergreen Ridge Racer series will also be making a playable appearance, as will brand new IP Inversion. Ace Combat: Assault Horizon will be there if you like that sort of thing, and Namco will even be bringing a Tekken Tag Tournament 2 arcade machine along with them. In what is unlikely to be unrelated news, the Expo will also be the venue for the final of the Tekken Force Tournament.
You can buy tickets here. If you intend to do so, it's best to buy sooner rather than later; early entry tickets have already sold out for all three public days. Best of all, if you go to the Expo, you might run into one or two of the CG team!