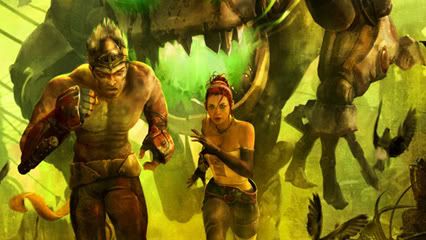 Ninja Theory, whose most recent efforts is the PS3-exclusive twing twangathon Heavenly Sword, have announced a new title in development for both the PS3 and the 360 entitled Enslaved. The game, which labels itself a "tactical action-adventure", will centre around the two characters Monkey and Trip, both of whom find themselves (wait for it…) enslaved under mysterious circumstances and they quickly realise that they need to work together in order to make it out alive.
Little is known of the actual gameplay as of yet, so it's difficult to tell how the two characters will play and how they will balance each other out. Here's for hoping the dynamic works more like Pey'J and Jade rather than Leon and Ashley. The team have also enlisted the talents of Andy Serkis, most famous for his work as Gollum in the Lord of the Rings movies, as well as Alex Garland who you will know as the writer behind Beach and 28 Days Later. Garland's contribution is especially exciting as this is his first video game project, and bodes well for a story which at first glance seems fairly standard.
Enslaved is currently scheduled for a vague 2010 release and will be published by Namco Bandai for both the PS3 and Xbox 360.