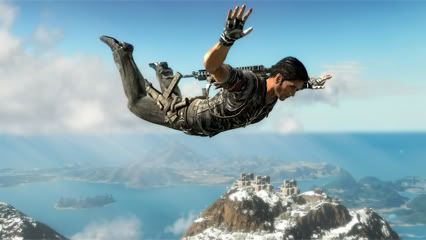 Sky diving, car hopping, heli' jacking third person shooter Just Cause 2 has finally been given the release date of the 26 March 2010 in Europe, the Middle East and Australasia, three days after the American release.
In the game, players take control of Rico Rodriguez, tearing up a 400 square mile South East Asian open world sandbox island by hijacking just about anything that moves before blowing a lot of stuff up.
"Just Cause 2 offers the freedom to explore and tackle the world in any way you choose", said Lee Singleton, General Manager of Square Enix London Studios.
"The grapple and the parachute mechanic will change the way you play open-world games, allowing players to be in the air in seconds, tackling missions from above and using the aerial advantage. If you prefer to stay on solid ground, the choices offered by the grapple are limited only by your imagination."
We've heard plenty of promises like this before, but the grapple and parachute mechanic is rather unique to this series. It was a very fun addition to the original Just Cause, but it was just a few other factors that let it down a bit.
Just Cause 2 is looking very promising from what has been shown off so far and hopefully it will only be a four month wait until we find out how much it has been improved. Look out for the game next year on PS3, Xbox 360 and PC.