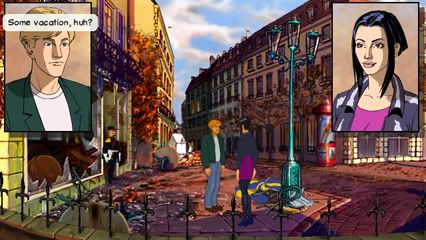 Broken Sword fans rejoice as the director's cut of Shadow of the Templars is now available to download on PC from 'all major game download sites', with a Mac version to come in a few days.
The Director's Cut is a 'loving update' to a game that lingers happily in the nostalgia zones of many people's brains. Featuring an all new story-arc delicately woven into the existing plot, brand new facial animations from Dave Gibbons (co-creator of Watchmen), enhanced graphics and audio, a new tips system and even more hair tugging puzzles, this is quite the facelift for the 1996 classic.
"We're absolutely thrilled to see The Director's Cut on the formats which made the original such a smash," says Charles Cecil, managing director, Revolution Software. "The additions and enhancements make this feel as fresh as ever – I am confident that the Director's Cut will prove to be every bit as popular today as its predecessor was previously."
Broken Sword: Shadow of the Templars Director's Cut is available to download now for £9.99, and will also see a retail release trailing behind digital editions, published by Mastertronic in the near future.