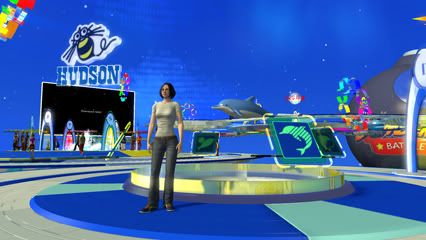 Want more stuff to do in PlayStation Home? We can only assume that the answer is "Yes", with Hudson Soft releasing the Hudson Gate, a 'portal lounge that will serve as a home-base for all things Hudson'.
Currently the area contains virtual shopping, product information and a dolphin racing mini game which you can watch, bet or participate in. There is even the option for players to purchase a "Dolphy Room" that lets you breed your own Dolphy pets to race.
The Bomber Dome is another feature which is due to open when Bomberman LIVE: Battlefest is released on PlayStation Network.
Other features within Hudson Gate include a map board which shows the positions of facilities in the lounge, a theatre, a waterfall and a gate to travel between different disk floors. You can find more information on Hudson Gate here.