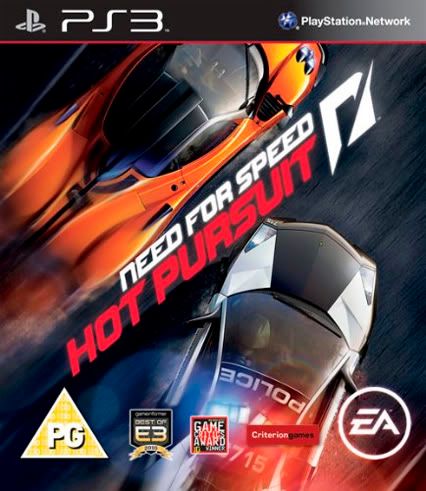 Format: PS3 (version reviewed), PC, Xbox 360, Wii
Unleashed: Out Now
Publisher: EA
Developer: Criterion
Players: 1 (online multiplayer)
The original Need for Speed was released on the PlayStation and PC in 1998, and featured the Cops v Racers chase gameplay that is prevalent in this new addition to the franchise. So does this new entry hark back to the well received original, or has developer Criterion created a monumental car crash of a game that their Burnout series would be proud of?
After a few barren years, this entry to the Need for Speed franchise is, thankfully, a thrill ride of a game. Developers Criterion have really stepped up their game, and this is a breath of fresh air to the more staid simulations of Gran Turismo 5 and Formula 1 2010. They have taken some of the best bits from Burnout Paradise, and condensed them into this new arcade racer. Rather than have the open world that Burnout used, this game is much more focused, and only the odd shortcut takes you away from the road in front of you.
The main single player Career mode has you choosing whether you want to be a Cop or a Racer. You then get to choose events on the map. If you choose to go as a Racer, then there are a multitude of races to enter. There are also events where you are being chased by one or more Cops, as well as Time Trials where you are up against the clock. The Cops main aim is to stop these illegal street racers in their tracks, using any means necessary. The game takes place in Seacrest County along some clearly OutRun inspired scenery, with players dodging oncoming traffic and smashing opponents off the road to build up their Nitro boost – which is similar to the system used in Burnout Paradise.
While straight-up races are good fun, Racer v Cop is a lot more intense, with you tearing around Seacrest County like the Dukes of Hazzard while being chased by a souped-up Rossco P. Coltrane. The only thing missing is the eyecandy that Daisy Duke would bring, although the scenery of Seacrest County is pretty stunning in its own way. However, the gameplay is that fast that you won't get long to take it all in, and even blinking can cause you to crash! Car handling is good, but braking can be a bit over-sensitive at times.

Both Racer and Cop have different, Spy Hunter inspired gadgets to takedown opposing players. Both classes can utilise an EMP blast that disables any car in front, if you target them for long enough. This can be countered by the Racer's Jammer or by doublebacking on opponents to lose the targeting reticule. There's also Spike Strips that both can use to slow down opponents approaching from behind. Cops can also use Road Blocks and Helicopters to slow down Racers who are streaking ahead of them. However, Racers can counter this with a Nitro boost to fire them off into the sunset.
The choice of cars is stunning with Bentleys facing Lamborghinis, Porches and Mercedes. All of the cars are sexy bits of kit, and you unlock extra cars as you accrue Bounty (the game's XP). The more you play, and ram people off the road, drive into oncoming traffic etc the more you rank up (Police) or increase your wanted level (Racer). The game's Bounty is also used to unlock extra areas of Seacrest County, which gives you access to extra races and events, which appear as markers on the map.
Seacrest County is a stunning place, which is alive with traffic and some nice weather and lighting effects. To see the County in all its glory you need to enter Freedrive mode, which opens up the world like Burnout Paradise; the sun rises and sets, and the weather changes as you drive around. It's a great way to take your newly acquired supercar out for a test drive, and also a chance to take in some of the breathtaking scenery on show that can be difficult to appreciate in the mayhem of singleplayer.
When you've seen all there is to see in the Career mode, you should try out the online part of the game, which is a lot of fun. There will be up to eight players facing each other in varying events and modes. We did find however that communication with headsets occasionally gets severely distorted, which was annoying; but should hopefully be remedied with a future patch. Playing online is remarkably lag free and is just as fast and frenetic as playing by yourself offline.
Need for Speed: Hot Pursuit introduces Autolog, which lets you see how you are doing compared to your friends, and is central to the online experience. If you click on the 'Wall', it opens up a multitude of info, and pictures that your friends have taken from the game. Autolog Recommends is a great way of challenging players to up their game. Basically it lets you know when a friend has beaten your time in an event, and challenges you to beat it again, with a simple click through to the event itself. This is a nice touch that really adds something special to the online social aspect of the game; and if you beat your friend's time, the game lets you brag about it by posting a message up on the Wall. It's a great new feature that other racing games should adopt.
Need for Speed: Hot Pursuit takes the series back to its roots, and is a welcome reboot for the long running series. Criterion have shown once again that when it comes to arcade racers, there's not a better developer out there. Some of the events can get repetitive after a while, but the sense of speed and the thrilling chases and crashes are truly breathtaking; simply put, if you've got a Need for Speed, this is one arcade racer worth pursuing.