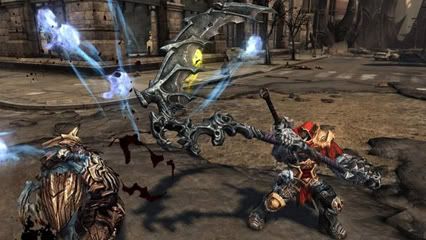 Thinking of pre-ordering THQ's upcoming apocalyptic hack and slash 'em up Darksiders? Well if you're in the UK you may want to think carefully where you reserve your copy as many retailers are offering different pre-order incentives.
If you stroll in to GAME you can expect to get an in game weapon, the Harvester, an ornate scythe 'from the arsenal of Death himself'.
Getting your copy pre-ordered from Play.com will get you access to War clothes for your console avatar on Xbox Live or Playstation home, really letting you rub your purchase in the face of others. Likewise if you order from Amazon you will get exclusive access to a Ruin head mask for your console representation of you.
You can always throw your money Gamestation's way and nab yourself a Darksiders comic book which expands on the story, drawn up by ex-Marvel and Vigil Games creative lead Joe Madureira.
Alternatively you could order from HMV and get the 'Your Last Centrefold' calendar if you are starting to get bored of staring at the pin up you might have adorning your wall currently.
If these rewards are starting to make you froth at the mouth with excitement, or if you merely want to be guaranteed you can slot it in to your 360 or PS3 on the 8 January next year, you now have some tempting pre-order bonuses.