Update: Following the screenshots a gameplay trailer has also been released. The environment looks similar to that in the screens, and the gameplay itself looks to be taken from the campaign mode.

The long awaited sequel to 2005's Battlefield 2 is getting the under slung torch lights shone around its edges with a new batch of screenshots posted on BF3Blog today.
In this selection of screens we get to see a military ruckus in an urban environment, with plenty of guns blazing and close ups on army personnel. It is not clear if this is campaign or multiplayer being shown off, but either way it looks damn pretty.
Could the screens be showing us New York, Paris or Tehran – the three confirmed locations that the game is set in? Or maybe it's a sneak peak at a new area?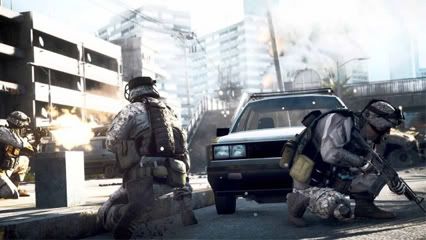 There is still a lot we are yet to be told about the game which is due out on PC, PS3 and Xbox 360 this autumn. You can check out the new screenshots here.
These screens follow previous news that the PC version of the game is getting special treatment compared to the console versions, with up to 64 person multiplayer confirmed for computer players. As a penalty however, stubborn Windows XP users will have to upgrade their operating system as Frostbite 2.0 – the game's new engine – won't support DirectX 9.